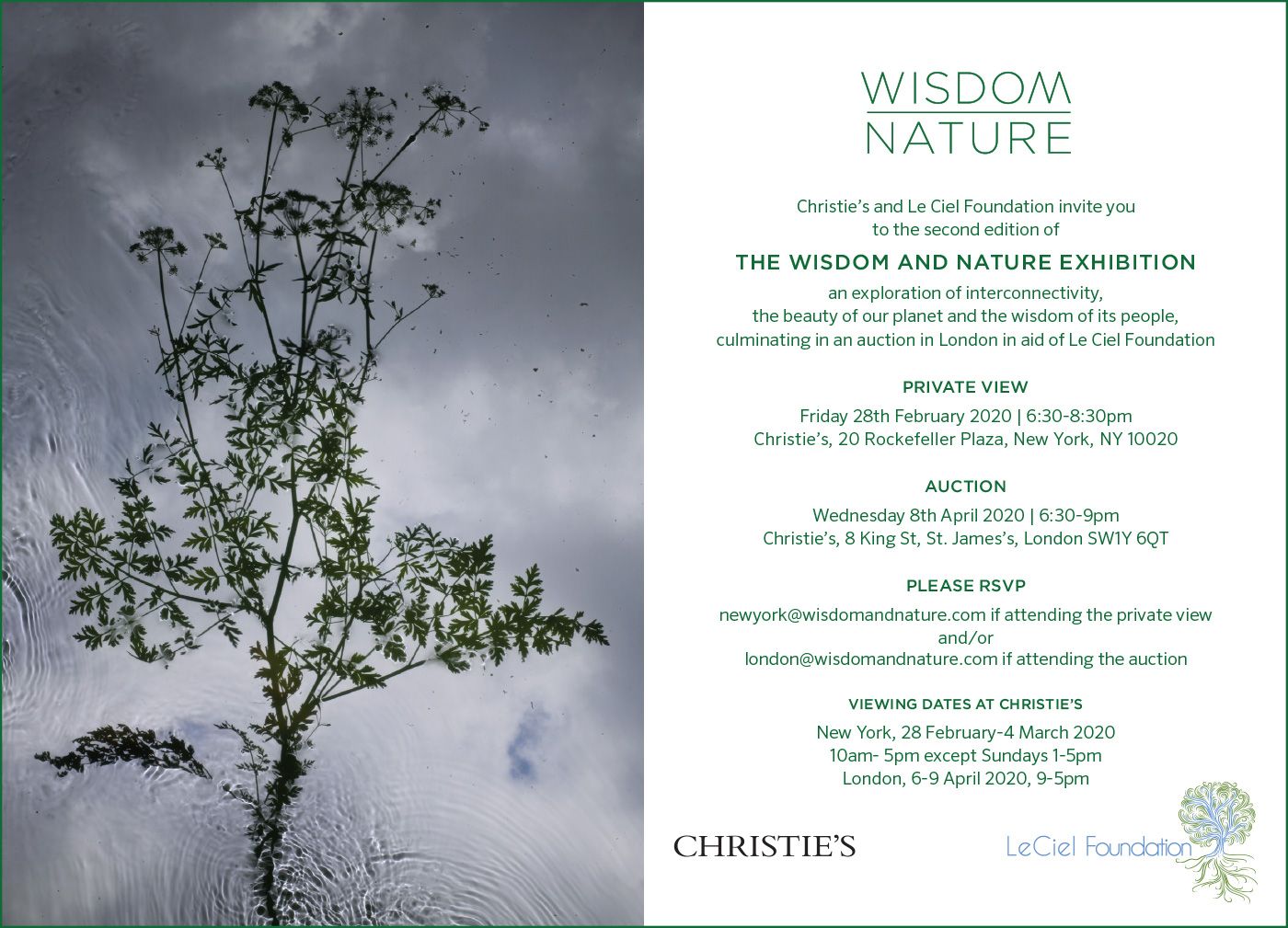 Wisdom & Nature 2020
The second edition of Wisdom and Nature brings together a new collection of 50 artworks from around the world that capture the beauty of our planet and the wisdom of its people. Funds raised during the auction will support the realisation of holistic solutions being developed by the Holistic Vision Symposium, locally-run educational projects designed to preserve culture and knowledge among the indigenous communities we work with and a panoply of other projects of ours designed to bridge the know-how of modernity with the wisdom of ancestral traditions.
Generously donated by artists and galleries, we have the great honour of featuring pieces by Adam Waymouth, Adrian Houston, Alexander Khimushin, Anouska Beckwith, Antonio Obá, Aranka Israni, Azza Fahmy, Brigida Baltar, Carlito Dalceggio, Cássio Vasconcellos, Catalina Swinburn, Charlotte Leimer, Chloë Natalia, Christopher Roche, Daniel Garcia, David Kassman, Delfina Muñoz de Toro, Dimas Paredes Armas, Gaston Ugalde, Henry and Richard Hudson, Joaquín Vila, Justin Brice Guariglia, Katy Lynton, Kito Mbiango, Llewellyn Xavier, Lucho Brieva, Lucy Temple, Malou Ericsson, Mamakan, Marshmallow Laser Feast, Mat Chivers, Odyssée Dao, Oliver Barnett, Paulo Nazareth, Peter Matthews, Philip Volkers, Regina Dejiménez, Roee Aminof, Roseline de Thélin, Ruben Brulat, Sidney Regis, Simon English, Sukhi Barber, Susan Derges, Takako Matoba, Tatyana Murray, Temple Jewels and Thia Konig.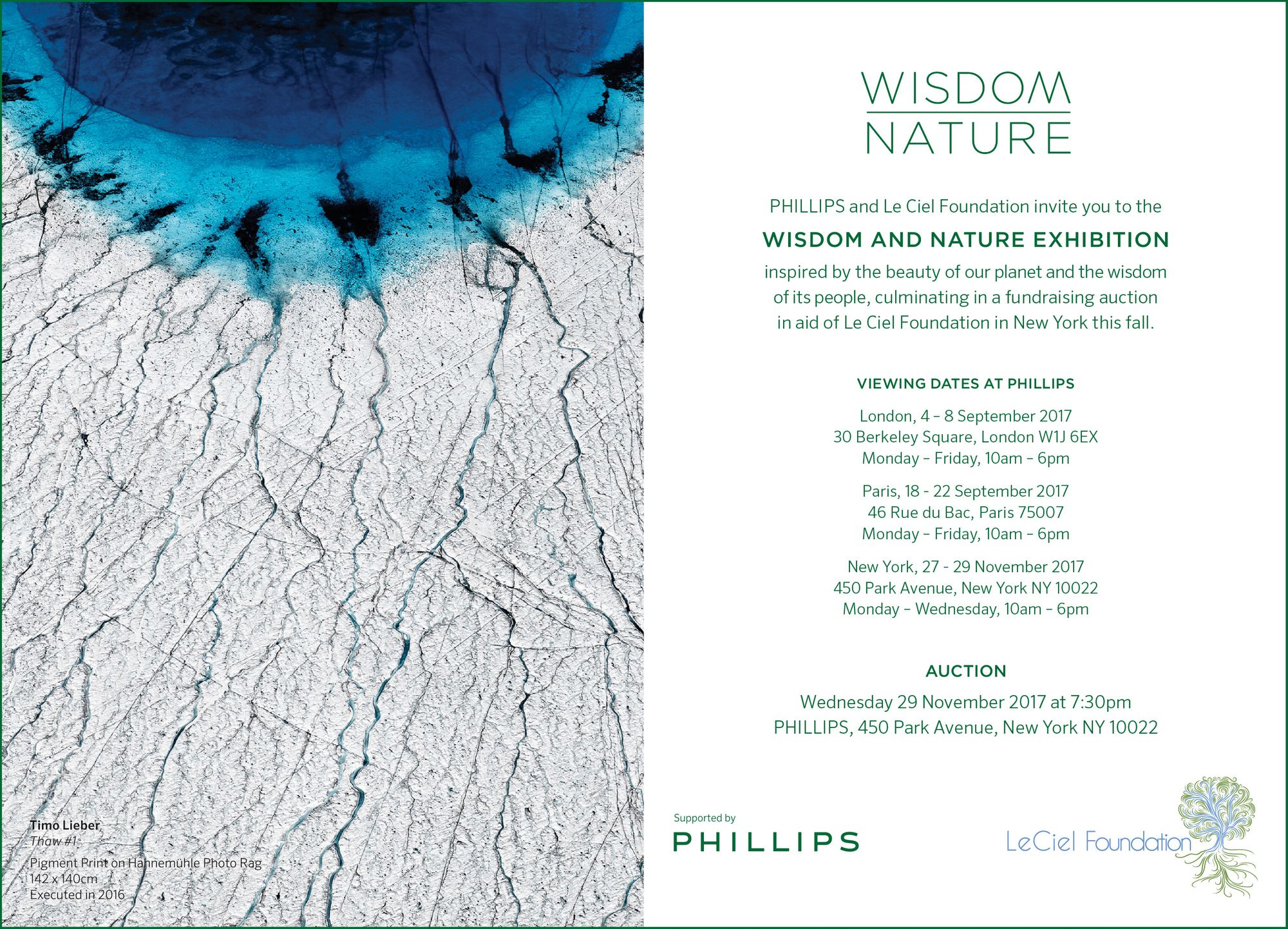 Wisdom & Nature 2017
4 September - 29 November 2017
PHILLIPS - London (4- 8 Sept) | Paris (18 - 22 Sept) | New York (27 - 29 Nov)
http://lecielfoundation.com/wisdom-and-nature-exhibition/
Inspired by the beauty of the planet and the wisdom of its people, the exhibition will explore the essence of the twelve traditions coming together for the Council and Symposium and capture both Humanity and the Earth's natural splendour.
Wisdom and Nature will raise awareness about the wisdom held by indigenous cultures regarding both society and the environment. Each tradition will be represented through photography and film clips providing an insight into these cultures, as well as a glimpse into ancient ecological wisdom and its mystical relationship with nature.
Alongside this will be displayed a collection of 35 contemporary artworks portraying the beauty of the planet, Man's imprint on Nature and Man and Nature's relationship to one another.
Renowned artists, galleries and private collectors, are generously donating these artworks.
The artists participating in the exhibition include:
Claudia Andujar, Gilles Bensimon, Hugo Burnand, Wu Chi-Tsung, Tinko Czetwertynski, Odyssée Dao, Pierre de Vallombreuse, Anne de Vandière, Alinka Echeverría, Eliane Fattal, Esther Giles, Murray Fredericks, Michael Flomen, Adam Fuss, Justin Brice Guariglia, Caroline Halley des Fontaines, Béatrice Helg, Aranka Israni, Alexander Khimushin, Daniel Kukla, Timo Lieber, Charles March, Denise Milan, Karma Milopp, Cristina Mittermeier, Beth Moon, Ernesto Neto, Sidney Regis, Tamsin Relly, Rolf Sachs, Priscilla Telmon, Janaina Tschape, David Yarrow, and Zuiryu.